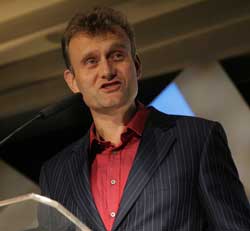 At last week's Taxation annual awards ceremony, comic host Hugh Dennis told us that the
LexisNexis Taxation awards
was the most ridiculously named Taxation awards he had ever been to. "Indeed the only taxation awards I've ever been to".
Sticking with the company name, LexisNexis, he suggested that perhaps it was "the teletubby that time forgot, or the teletubby who went to Monaco. Lala and Po didn't want to redomicile - they just went into forestry."
Amongst his other tax related one-liners were:
"Until yesterday I thought that IHT was something women used as contraception and that a P11D was a Diesel version of a P11"

"The only thing I do know, is that, in my experience, the Married man's allowance is... about once a month"

Ok - perhaps you had to be there.